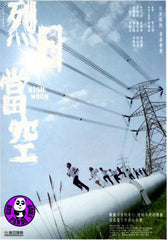 Region Coding: Region 3 (Locked)

Starring: 
Lam Yiu Sing
Anjo Leung
Shum Ka Ki
Jeremy Liu Bak Wing
Chan Yiu Wing
Vincent Wan Yeung Ming

Director: 
Heiward Mak Hei Yan


Audio Tracks: 
DTS Digital Surround

Languages: 
Cantonese, Mandarin

Subtitles: 
English, Traditional Chinese


Running Time: 
110 minutes

Distributor:
Mei Ah Entertainment (HK)

Release Date:
30 April 2009

Synopsis:

While the world was welcoming for the Beijing Olympic Game, students in Hong Kong were busying to combat with the battle: O-level exam. 9 characters, in their adolescence age, were lost in the virtual and cruel reality that filled with sms, internet and materialism. The brittle and impetuous souls were touched by each other, with love and freedom that exclusively belongs to the youth. Crumbled friendship, frail love affair, complicated family, strikes between life and death, wear away the teenager's heart in split second! Crying out loud for the aspiration to freedom under the sun! Honestly rise in the High Noon!
Both humorous and heartbreaking, this ablaze and bright story of growing up is written and directed by 23 years old only female director, Heiward Mak.
More items to consider...