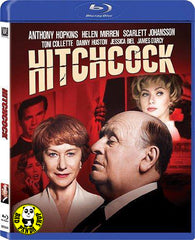 Region Coding: Region A (Locked)

Starring:
Anthony Hopkins
Helen Mirren
Scarlett Johansson
Toni Collette
Wallace Langham
Kurtwood Smith
Ralph Macchio
Jessica Biel
Danny Huston
D'Arcy James
Richard Portnow
Tara Summers
Kai Lennox
Michael Stuhlbarg

Director:
Sacha Gervasi

Audio Tracks: 
DTS-HD Master Audio, Dolby Digital 5.1

Languages: 
English, Polish, Portuguese, Spanish, Thai, Turkish, Czech, Hungarian

Subtitles:
English, Traditional Chinese, Korean, Spanish, Thai, Vietnamese, Bahasa (Indonesia), Portuguese, Arabic, Bulgarian, Croatian, Czech

Running Time: 
- minutes (TBA)

Distributor:
20th Century Fox

Release Date:
18 April 2013

Synopsis:
Oscar Winners Anthony Hopkins and Helen Mirren* are spellbinding in this provocative story about the making of one of cinema??s most iconic films. Plagued by both a reckless ego and nagging self-doubt, Hollywood legend Alfred Hitchcock (Hopkins) becomes obsessed with a grisly murder story that the studios won??t back. Determined, he risks his reputation, his home and even the love of his wife Alma (Mirren), as he sets out to make the film. Ultimately, Hitch wins Alma over, and the two collaborate to create an enduring masterpiece - Psycho. Also starring Scarlett Johansson, Toni Collette and Jessica Biel, Hitchcock is "a knockout from start to finish" (Rex Reed, The New York Observer).
More items to consider...