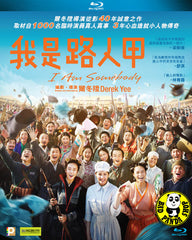 Region Coding: Region A (Locked)

Starring:
Shen Kai
Wan Guopeng
Wang Ting

Director:
Derek Yee

Audio Tracks: 
Dolby TrueHD Advanced 96k upsampling, Dolby Digital EX

Languages: 
Mandarin (part-of Cantonese)

Subtitles:
English, Traditional Chinese, Simplified Chinese

Running Time: 
134 minutes

Distributor: 
Panorama (HK)

Release Date:
29 Jan 2016

Synopsis:
In the middle of China, there's a town called Hengdian. In this town, there is a movie lot that is bigger than the studios of Universal and Paramount put together. This is the Hengdian World Studios, aka "Hollywood of the East".

It attracts production teams from all over the world, and as a result, creates a new label in the Chinese population – "Hengpiao", which literally means the "Hengdian Nomads". These people are mostly extras on the movie set, and they're usually perceived as those who dream of becoming movie stars. Until in August, 2012, director Derek Yee met some of the extras during a set visit, and he was touched by their live stories. "I'm Somebody" is inspired by these extras, and for once they get to be the leads.

The story evolves around several young people chasing their dreams in Hengdian. They have no knowledge in moviemaking, and they bumbling misadventures turn out to be valuable lessons for their lives. Director Yee wishes this film could inspire countless "nomads" from all walks of life. The obstacles that we're facing would become the greatest gifts of our lives.


movie trailer (English subtitled)

More items to consider...