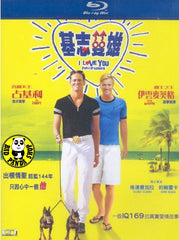 Region Coding: Region A (Locked)

Starring: 
Jim Carrey
Ewan McGregor

Director:
Glenn Ficarra
John Requa

Audio Tracks:
Dolby DTS-HD Master Audio 5.1
Dolby TrueHD 5.1
Dolby Digital 5.1

Languages: 
English

Subtitles:


Traditional Chinese (NO English subtitles)

Running Time:
98 minutes

Distributor:
CN Entertainment

Release Date:
19 Aug 2010

Synopsis:
Based on the real life events of Steven Jay Rusell (Jim Carrey), an gay man with a 169 IQ, who decides to live life to the fullest, even if it means breaking the law. Steven's new extravagnat lifestyle involves cons and fraud and, eventually, meets the love of his life, a sensitive soft-spoken Phillip Morris (Ewan McGregor). His devotion to freeing Phillip from jail and building the perfect life together prompts Steven to attempt escape after escape and executes con after con, all in the name of love.
More items to consider...