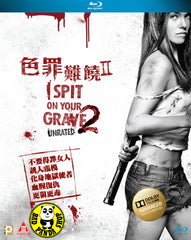 Region Coding: Region A (Locked)

Starring:
Jemma Dallender
Joe Absolom
Yavor Baharoff
Alexander Aleksiev
Mary Stockley
Yavor Baharov

Director:
Steven R. Monroe
Donald Farmer

Audio Tracks: 
Dolby TrueHD Advanced 96k sampling, Dolby TrueHD, Dolby Digital TrueHD 7.1 Surround

Language: 
English

Subtitles:
English, Traditional Chinese, Simplified Chinese

Running Time: 
106 minutes

Distributor:
Panorama (HK)

Release Date:
20 Dec 2013

Synopsis:
A woman is brutally raped by four men, and she plans to seek vengeance. She tracks them down and has her revenge.



More items to consider...