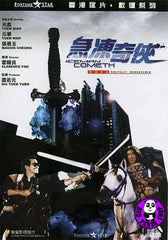 Region Coding:
Region 3 (Locked)

Starring:  
Yuen Biao
Maggie Cheung
Yuen Wah

Director:
Clarence Fok

Audio Tracks: 
DTS 5.1
Dolby Digital 5.1

Languages: 
Cantonese

Subtitles: 
English, Traditional Chinese, Simplified Chinese

Running Time: 
114 minutes

Distributor:
Joy Sales

Release Date:
6 Nov 2008

Synopsis:
Mixing sci-fi, fantasy and action, this all-time classic stars Yuen Biao as Ching, an Imperial Guard from the Ming Dynasty in pursuit of a rapist Feng San (Yuen Wah), who tries to escape by travelling through time on the spinning Reincarnation Wheel. They end up being frozen for 300 years thawed out in modern-day Hong Kong. As Ching wanders about in confusion, he meets up with Polly (Maggie Cheung), a hooker with a heart of gold. She manages to trick him into thinking women rule in modern times and makes him her servant and bodyguard. Soon Ching finds out Polly is using him and Feng San is alive, up to his old tricks. In a different time and place, will Ching complete his mission?  
More items to consider...