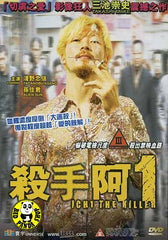 Region Coding: Region 3 (Locked)
Starring: 
Asano Tadanobu
Paulyn Sun
Tsukamoto Shinya
Omori Nao

Director: 
Takashi Miike


Audio Tracks: 
Dolby Digital 2.0, Dolby Digital 5.1

Languages: 
Japanese

Subtitles: 
English, Traditional Chinese, Simplified Chinese

Running Time: 
115 minutes

Distributor:
Universe Laser (HK)

Release Date:
02 July 2002

Synopsis:
One day, Boss Anjo of the powerful yakuza group "The Anjo Group" vanishes, together with one hundred million yen. In fact, Boss Anjo was assassinated by the killer Ichi, with the blood bath masterminded by Jijii. Kakihara, a menber of the Anjo Group, orders his crew to search for the boss, basically turning the town upside down. 
With the help of mysterious club hostess Karen, Kakihara get closer to finding Jijii's hired killer, Ichi...
More items to consider...