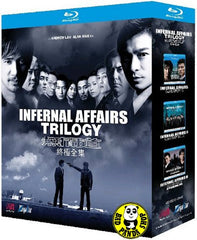 Region Coding: Region Free

Starring: 
Andy Lau 劉德華
Tony Leung Chiu Wai 梁朝偉
Eric Tsang 曾志偉
Anthony Wong 黃秋生
Leon Lai 黎明
Carina Lau 劉嘉玲
Edison Chen 陳冠希
Francis Ng 吳鎮宇
Chen Dao Ming 陳道明
Gordon Lam 林家棟
Kelly Chen 陳慧琳
Sammi Cheng 鄭秀文
Elva Hsiao
Chapman To
Shawn Yue
Andrew Lau
Alan Mak

Director:
Andrew Lau Wai Keung 劉偉強
Alan Mak 麥兆輝

Audio Tracks: 
Dolby Digital 5.1, DTS Digital Surround, Dolby Digital EX, THX Surround EX

Languages: 
Cantonese 粵語, Mandarin 國語

Subtitles: 
English, Traditional Chinese 繁體中文字幕, Simplified Chinese 簡體中文字幕



Distributor:
Mega Star (HK) / Intercontinental Video Limited (IVL)

Release Date:
27 Nov 2008

Synopsis: 
Infernal Affairs (2002)
Director: Andrew Lau Wai Keung
Running Time: Approx. 97 minutes
An award-winning crime thriller that inspired Martin Scorsese's "The Departed" -- critics everywhere have hailed INFERNAL AFFAIRS for his gritty action and international superstars. Chan Wing Yan (Tony Leung) is a hard-nosed veteran cop sent undercover to infiltrate the notorious Triad crime ring. An expert at bringing down violent syndicates, Chan thinks it's going to be a routine mission. What he's not prepared for is the discovery that the Triad's boss (Eric Tsang) has planted a mole (Andy Lau) in the police department...and now Chan is being hunted down. In this battle of wills, only one cop can win!
Infernal Affairs II (2003)
Director: Andrew Lau Wai Keung
Running Time: Approx. 119 minutes
A legend is born at the best of times. From the multiple award-winning team behind the mind-blowing blockbuster, the secrets are finally revealed in this most anticipating prequel: What drove police superintendent Wong (Anthony Wong) and crime boss Sam (Eric Tsang) against one another? How did two struggling moles Yan (Shawn Yue) and Ming (Edison Chen) begin their parallel fates? The keys lie in the hands of three: Sam's wife Mary (Carina Lau), ruthless kingpin Hau (Francis Ng), and righteous cop Luk (Hu Jun). The infernal gates are open to the worst of times…. 
Infernal Affairs III (2003)
Director: Andrew Lau Wai Keung, Alan Mak
Running Time: Approx. 117 minutes
In 2004, 10 months after the murder of Yan (Tony Leung), Ming (Andy Lau) is transferred to do the office work. Meanwhile, a new star Wing (Leon Lai) has emerged in the police force. Ming suspects he is also a mole sent by the triad. Three years ago, Yan's first big mission was to build up a smuggling network with Shen (Chen Daoming), a mysterious businessman from China. Actually, Yan's was out of control and forces him to see psychologist Dr Lee (Kelly Chen). Yan gradually develops a special friendship with her.
More items to consider...