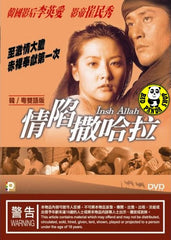 Region Coding: Region Free
Starring: 
Lee Yeung Ai
Choi Min-su

Director: 

Lee Min Yung
Audio Tracks: 
Dolby Digital

Languages: 
Korean, Cantonese

Subtitles: 
English, Traditional Chinese

Running Time: 
105 minutes

Distributor:
Panorama (HK) Distributions

Release Date:
28 Jun 2007

Synopsis:
A love story that happens in the wrong place and wrong time. Lee Young-ae is a Korean student studying abroad in the U.S. She takes a vacation in the Sahara Desert with her friends but they haven been mistakenly detained as smugglers in Algeria. North Korean diplomatic official Choi Min-soo is appointed to help her out. They first have quite a big discrepancy in political belief, however they soon become aware that they have a crush on each other...
More items to consider...