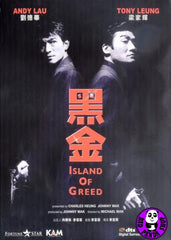 Region Coding: Region 3 (Locked)

Starring:  
Andy Lau 劉德華
Tony Leung Ka Fai 梁家輝
Alien Sun 孫佳君
Annie Wu 吳辰君

Director:
Michael Mak Dong Hung 麥當雄

Audio Tracks: 
DTS 5.1
Dolby Digital 5.1

Languages: 
Cantonese, Mandarin

Subtitles: 
English, Traditional Chinese

Running Time: 
125 minutes

Distributor:
Kam and Ronson

Release Date:
28 Jun 2011

Synopsis:
Head of an investigation team Fong Kwok-fai and his teammates are probing into the games arcades run by Cho Chiu Sin. Chou is the boss of a triad society in Taiwan, running gambling dens and colluding in government construction projects. He also schemes to redeem himself by running for Taiwan's Nationalist Party seat. Feng successfully finds evidence to indict Chou, but the judge is bribed into ruling him innocent… 
More items to consider...