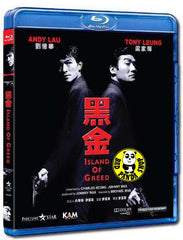 Region Coding: Region A (Locked)
Starring: 
Andy Lau
Tony Leung Ka Fai
Paulyn Sun
Annie Wu
Guo Ching Chun
Winston Chao
King Shih Chieh
Lee Li Chun
Doze Niu

Director, Producer & Writer: 

Mak Dong Hun
Audio Tracks: 
Dolby TrueHD, 7.1, Dolby Digital 6.1

Languages: 
Cantonese, Mandarin

Subtitles: 
English, Traditional Chinese

Running Time: 
125 minutes
Distributor:
Kam & Ronson Enterprises Co., Ltd.

Release Date:
28 June 2011

Synopsis:
Head of an investigation team Fong Kwok-fai and his teammates are probing into the games arcades run by Cho Chiu Sin. Chou is the boss of a triad society in Taiwan, running gambling dens and colluding in government construction projects. He also schemes to redeem himself by running for Taiwan's Nationalist Party seat. Feng successfully finds evidence to indict Chou, but the judge is bribed into ruling him innocent….
More items to consider...