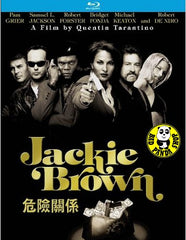 Region Coding: Region A (Locked)

Starring: 
Pam Grier
Robert Forster
Samuel L. Jackson
Robert De Niro
Michael Keaton
Bridget Fonda

Director:
Quentin Tarantino

Audio Tracks:
English Dolby DTS-HD Master Audio 5.1
English Dolby Digital 5.1

Subtitles:


English, Traditional Chinese

Running Time:
155 minutes

Distributor:
Panorama HK Distributions

Release Date:
13 Apr 2012

Synopsis:
What do a sexy stewardess (Pam Grier), a street-tough gun runner (Samuel L. Jackson), a lonely bail bondsman (Robert Forster), a shifty ex-con (Robert De Niro), an earnest federal agent (Michael Keaton), and a stoned-out beach bunny (Bridget Fonda) have in common?

They're six players on the trail of a half million dollars in cash! The only questions are...who's getting played...and who's gonna make the big score? Combining an explosive mix of intense action and edgy humor, Quentin Tarantino's crime thriller introduces Pam Grier and Robert Forster to a new generation of filmgoers.
More items to consider...