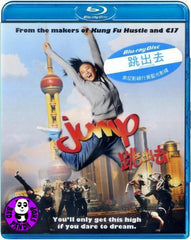 Region Coding: Region Free

Starring:
Kitty Zhang
Leon Jay Williams

Director:
Stephen Fung

Producer:
Stephen Chow

Audio Tracks:
DTS-HD Master Audio 5.1
DTS Digital Surround 5.1

Languages:
Cantonese, Mandarin, Thai

Subtitles:
English, Traditional Chinese, Simplified Chinese, Korean, Thai

Running Time:
87 minutes

Distributor:


ERA Home Entertainment (HK)



Release Date:
22 Apr 2010

Synopsis:

Jump is a film about courage and passion. Full of humor and exciting dance sequences the film features a young village girl from a sheltered background named Phoenix who loves dancing. Brought up by her father, a Kung Fu Master, after the death of her mother, Phoenix has been trained in martial arts but her real dream is to be a dancer. When Phoenix is offered the chance to work in a big city, she jumps at it, and leaves her father and hometown for Shanghai. While working in a garment factory by day, Phoenix still retains her dream of one day dancing on stage. She takes a part time job at night at a local dance school in order to secretly learn the techniques. Seen as an unsophisticated country girl in the big city, Phoenix puts up with a lot of teasing but she perseveres.

When Phoenix meets Ron, a rich and handsome playboy, and the owner of the dance school, Ron recognizes her talent and passion for dance and offers Phoenix a chance to study for free. She is also invited to join the dance competition that the school is participating in. Despite his reputation, Phoenix becomes romantically involved with Ron, but right before the competition; she has second thoughts about him, and makes a decision that may change her future forever. Only her father can make her realize what her next step must be…
More items to consider...