Juon: The Beginning of the End (2013) (Region 3 DVD) (English Subtitled) Japanese Movie a.k.a. Ju-on: Owari no Hajimari
$19.99 USD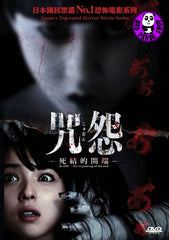 Region Coding: Region 3 (Locked)

Starring:
Nozomi Sasaki
Sho Aoyagi
Reina Triendl
Miho Kanazawa
Haori Takahashi
Yuina Kuroshima
Daiki Miyagi

Director:
Masayuki Ochiai

Audio Tracks: 
Dolby 5.1

Languages: 
Japanese

Subtitles:
English, Traditional Chinese, Simplified Chinese

Running Time: 
- minutes (TBA)

Distributor:
Intercontinental Video Ltd. (IVL)

Release Date:
9 Dec 2014

Synopsis:
Yui (Nozomi Sasaki) becomes the homeroom teacher at an elementary school. She visits the home of her student Toshio Saeki, because Toshio Saeki refuses to attend school. Soon after, Yui faces horrifying phenomenons.14 years ago, the family that lived in the home all died. She visits Toshio Saeki's house again and finds a box in the closet. The box is a gateway to the secrets of the doomed home.
More items to consider...