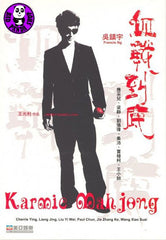 Region Coding: Region Free

Starring: 
Francis Ng
Cherrie Ying
Liu Yi Wei
Wang Xiao Shuai
Jia Zhangke
Na Wei
Liang Jing
Paul Chun

Director: 
Wang Guang Li


Audio Tracks: 
Dolby Digital 2.0

Languages: 
Cantonese, Mandarin

Subtitles: 
English, Traditional Chinese, Simplified Chinese


Running Time: 
90 minutes

Distributor:
Mei Ah Entertainment (HK)

Release Date:
21 July 2006

Synopsis:

Francis Ng (THE MISSION) and Cherrie Yin (THROWDOWN) give compelling performances in this thriller drama about superstition. Chen (Ng) is a simple man who seems to be cursed with bad luck all the time. Convinced by a blind fortune teller that he must eliminate the "villain" that is bringing him the ills, Chen vows to kill the person responsible for his misfortunes. But he soon has second thoughts when he suspect that the "villain" is none other than his own wife.
More items to consider...