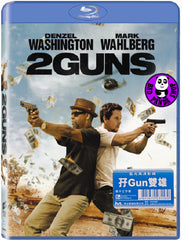 Region Coding: Region Free

Starring:
Mark Wahlberg
Denzel Washington
Paula Patton
Bill Paxton
Fred Ward
James Marsden

Director:
Baltasar Kormakur

Audio Tracks: 
DTS-HD Master Audio 5.1, Dolby Digital 5.1

Languages: 
English, Czech, Russian, Hungarian, Polish, Ukrainian

Subtitles:
English, Traditional Chinese, Simplified Chinese, Korean, Icelandic, Malay, Indonesian, Portuguese, Malay, Romanian, Russian, Serbian, Solvak

Running Time: 
109 minutes

Distributor:
Sony Pictures / Intercontinental Video Ltd. (IVL) HK

Release Date:
13 Dec 2013

Synopsis:
When their attempt to infiltrate an international drug cartel goes haywire, DEA agent Bobby Trench (Denzel Washington) and U.S. Naval intelligence officer Michael Stigman (Mark Wahlberg) are suddenly disavowed by their superiors. Now that everyone wants them in jain or in the ground, the only person they can count on is the other.

Unfortunately for their pursuers, when good guys spend years pretending to be bad, they pick up a few tricks along the way.

movie trailer (Chinese subtitle)
More items to consider...