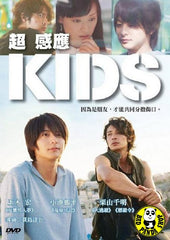 Region Coding: Region 3 (Locked)

Starring: 
Kuriyama Chiaki
Tamaki Hiroshi
Koike Teppei

Director: 
Ogishima Tatsuya
Audio Tracks: 
Dolby Digital 5.1

Languages: 
Japanese

Subtitles: 
English, Traditional Chinese, Simplified Chinese

Running Time: 
109 minutes

Distributor:
Universe Laser (HK)

Release Date:
27 May 2009

Synopsis:
One day, Asato (Teppei Koike) who has special power is teased by a gang of neighborhood thugs. A tough loner Takeo (Hiroshi Tamaki) saves Asato and gets hurt. As if by magic, Asato heals the wound on Takeo by simply touching his hand. They later on meet a gentle waitress Shiho (Chiaki Kuriyama), since then, the trio enjoy spending time together.

Kind Asato continues to use his power to take on injuries of the others. In spite of his misery, he feels happy for healing people's wound. Takeo and Shiho hope to save Asato, but their emotional pain is also too much to bear. Can Asato's magical power finally bring his friends lives without any pain.
More items to consider...