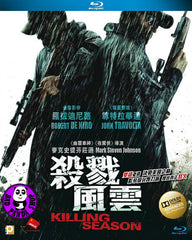 Region Coding: Region A (Locked)

Starring:
Robert De Niro
John Travolta
Milo Ventimiglia
Elizabeth Olin
Kalin Sarmenov
Diana Lyubenova

Director:
Mark Steven Johnson

Audio Tracks: 
Dolby TrueHD Advanced 96k upsampling, Dolby Digital EX

Languages: 
English

Subtitles:
English, Traditional Chinese, Simplified Chinese

Running Time: 
- minutes (TBA)

Distributor:
Panorama (HK)

Release Date:
20 March 2015

Synopsis:
Deep in the Appalachian Mountains, a reclusive American military veteran (Robert De Niro) and a European tourist (John Travolta) strike up an unlikely friendship. But when the tourist's true intentions come to light, what follows is a tense battle across some of America's most forbidding landscape proving the old adage: the purest form of war is one-on-one.
More items to consider...