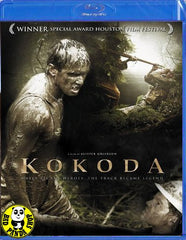 Region Coding: Region A (Locked)

Starring: 
William McInnes
Shane Bourne
Jack Finsterer
Travis McMahon

Director:
Alister Grierson

Languages: 
English

Subtitles:


English, Traditional Chinese

Running Time:
96 minutes

Distributor:
CN Entertainment

Release Date:
7 Oct 2010

Synopsis:
Based on a true story.

Australia is at war with Japan...An untrained unit of militiamen on the "Kokoda" track are cut off from supply and all communications. Overwhelmed by illness and fatigue, they must make their way through the most unforgiving terrain on earth. After three days they emerge from the jungle exhausted to the point of collapse, but on learning that they will soon be overrun, they pick themselves up and return to the nightmare of battle.


More items to consider...