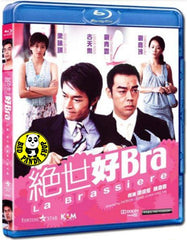 Region Coding: Region A (Locked)
Starring: 
Gigi Leung
Carina Lau
Lau Ching Wan
Louis Koo
Karen Mok
Higuchi Asuka
Stephen Fung
Chan Wai Yee
Kristal Tin
Chow Hoi Kwong
Yoshioka Miho
Jo Koo

Directors: 

Patrick Leung
Chan Hing Ka

Audio Tracks: 
Dolby TrueHD 7.1, Dolby Digital EX 6.1, THX Surround EX

Languages: 
Cantonese, Mandarin

Subtitles: 
English, Traditional Chinese

Running Time: 
110 minutes
Distributor:
Kam & Ronson Enterprises Co., Ltd.

Release Date:
24 Feb 2012

Synopsis:
Samantha, the president of a renowned brassiere company, breaks the tradition and hires two guys, Johnny and Wayne, as brassiere designers, and requires them to submit novel design in 3 months. Lena, is discontent with this decision deliberately make things difflcult for them, those two newcomers to the brassiere industry thus act like bufffoon. The time is coming. Can those two guys really work out the "Ultimate Bra"?
More items to consider...