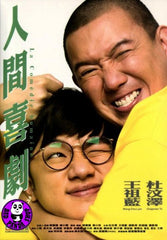 Region Coding: Region Free


Starring:  
Chapman To
Fiona Sit
Wong Cho Lam
Lee Lik Chi
Hui Siu Hung
Tsui Tin Yau
Soi Cheang
Carl Ng
Law Wing Cheong
Wu Li Zhu
Li Man Yun
Zheng Shi Jun
Lo Hoi Shan
Chun Janet

Director:
Chan Hing Ka


Audio Tracks: 
DTS-HD Master Audio 7.1, Dolby Digital 5.1

Languages: 
Cantonese, Mandarin

Subtitles: 
English, Traditional Chinese, Simplified Chinese

Running Time: 
105 minutes

Distributor:
Mei Ah (HK)

Release Date:
08 Sept 2010

Synopsis:

To know real friendship in life is truly good fortune. But it is by no means a given. Two weeks ago, an assassin for hire from the Mainland meets Soya, a frustrated screenwriter in Hong Kong. The former is an epitome of coolness and the latter is the personification of a chatterbox. When a Mainland assassin gets separated from his amesiac partner, he goes over to their pre-arranged rendezvons point on the rooftop. His partner never shows up. An unforeseen cold front causes the killer to lose consciousness and knock out Soya's TV antenna. Soya rescues the fainted hit man and takes him home. The fiend's killer instinct kicks into gear once he wakes but his weak physical state works against it. Soya has a psychotic girlfriend named Sky Love, the more Soya spoils her, the more deranged she gets. Just as the odd pair's unlikely friendship comes to fruition, the amnesiac assassin re-emerges and their unholy mission is suddenly back on track again. Law enforcement has been trailing this case and wants to set up a sting by engaging Soya as a mole. This forces Soya to do everything he can to aid in his friend's escape....
More items to consider...