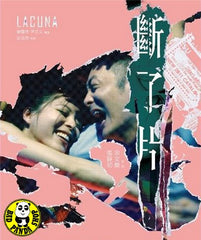 Region Coding: Region 3 (Locked)

Starring: 
Shawn Yue
Zhang Jing Chu
Lawrence Chou
Zhu Yu Chen
Yu Nuo
Yoga (James) Lin
Wang Yi
Wang Mei Qian
Yan Wen Xuan

Directors: 
Derek Tsang
Jimmy Wan
Pang Ho Cheung


Audio Tracks: 
Dolby Digital 5.1, DTS Digital Surround

Languages: 
Mandarin

Subtitles: 
English, Traditional Chinese, Simplified Chinese


Running Time: 
97 minutes

Distributor:
Kam & Ronson Enterprises Co., Ltd.

Release Date:
17 Sept 2012

Synopsis:

(Lacuna) is a Chinese romantic comedy that follows the structure of, and copies several ideas from, the Hangover (2009). At the beginning of the movie we see a man and a woman waking up from a bed in a furniture store, not recognizing each other. They both have no memory of the previous night. I think this movie is slightly interesting primarily due to the Hangover structure, although it is certainly much less crazy than the latter. The romance is there but it is perhaps not very passionate.
More items to consider...