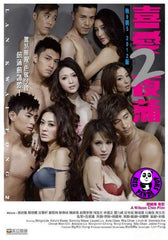 Region Coding:
Region Free

Starring:
Kelvin Kwan 關楚耀
Shiga Lin 連詩雅
Adason Lo 羅力威
Dominic Ho 何浩文
Liu Yu Qi 劉羽琦
Vincci Cheuk Wan Chi (GC Goo-Bi

) 卓韻芝
Jaime Fong 方珈悠
Sita Chan 陳僖儀
Benedict Chong 莊冬昕
Chen Wei Cheng 陳偉成
Linah Matsuoka 松岡李那

Director:
Wilson Chin 錢國偉

Audio Tracks: 


Dolby Digital 5.1



Languages: 
Cantonese 粵語, Mandarin 國語

Subtitles:


English, Traditional Chinese 繁體中文字幕,

Simplified Chinese 簡體中文字幕



Running Time: 
100 minutes

Distributor:
CN Entertainment Ltd. (HK)

Release Date:
28 April 2020

Synopsis:

Multiple stories of romance and promiscuity intertwine once more at Lan Kwai Fong: Hong Kong's premium nightlife district. A photographer hits it off with a girl that just broke up with her rich ex-boyfriend; an office boy in advertising mistakes his cell phone for a pretty married woman; a broker gets to know a prostitute a lot more than he should; and a patrol officer comes across a female DJ working at a night club. 

燈紅酒綠的蘭桂坊每夜都會上映一幕幕各式各樣的激情故事,這一晚亦不例外:任職影樓助手的攝影師在一個派對中結識了剛與富二代分手的富家女;廣告仔拿錯了美女人妻的手機;股票行業務助跟班認識到私鐘妹,逐漸由憐生愛;負責在這裡一帶巡邏的差佬碰上任職夜店的女DJ,成為了一對熟識的陌生人...

More items to consider...