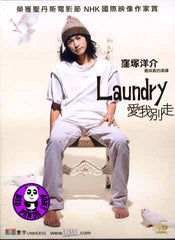 Region Coding:
Region 3 (Locked)


Starring: 
Naito Takashi
Kubozuka Yosuke
Koyuki

Director: 
Mori Junichi
Audio Tracks: 
Dolby Digital 2.0

Languages: 
Japanese

Subtitles: 
English, Traditional Chinese, Simplified Chinese

Running Time: 
127 minutes

Distributor:
Universe Laser (HK)

Release Date:
11 March 2003

Synopsis:
He's handicapped but contented; she looks normal but her soul's empty. Magically, they complete a wonderful love story with perfect harmony. Teru works at the laundry and meets Mizue who intends leaving behind a dress with a sad story. Teru decides to clean it but never does he know, he restores her heart as well. Unfortunately, the time comes when her secret exposes, both of them are brought into a dramatic tragedy. From which, telling the most sincere but simple kind of love, a story that will wash away the deepest wounds in one's soul......
More items to consider...