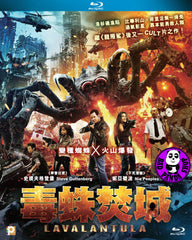 Region Coding: Region A (Locked)

Starring:
Steve Guttenberg
Nia Peeples
Patrick Renna
Michael Winslow
Leslie Easterbrook
Marion Ramsey

Director:
Mike Mendez

Audio Tracks: 
Dolby TrueHD Advanced 96k upsampling, Dolby Digital EX

Languages: 
English

Subtitles:
English, Traditional Chinese, Simplified Chinese

Running Time: 
84 minutes

Distributor: 
Panorama (HK)

Release Date:
7 Oct 2016

Synopsis: 
After a dormant volcano erupts miles outside of Los Angeles, something within the molten hot lava is awakened. Birthed from the bowels of the Earth itself, arachnid-like creatures with an obsidian-black exoskeleton swarm out. One man, Colton West, a washed-up, former A-list action star, suddenly finds himself the real life hero as he's forced to use his onscreen characters' know-how to save the entire city from being victims to the most horrifying villains you couldn't write any better.

More items to consider...