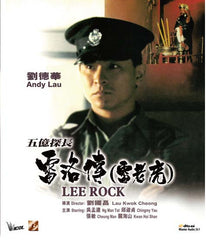 Region Coding: Region Free

Starring:
Andy Lau 劉德華
Chingmy Yau 邱淑貞
Sharla Cheung 張敏
Ng Man Tat 吳孟達
Paul Chun 秦沛
Kwan Hoi San 關海山
Michael Chan
Tam Sin Hung

Director:
Lawrence Lau 劉國昌

Audio Tracks: 
DTS 5.1, Dolby Digital 2.0

Languages: 
Cantonese, Mandarin

Subtitles:
English, Traditional Chinese, Simplified Chinese

Running Time: 
- minutes (TBA)

Distributor: 
Vicol Entertainment Ltd. (HK)

Release Date:
3 Sept 2015

Synopsis:
Lee Rock (Andy Lau) first enters the society as a policeman, by which he gets acquainted with two men that help in his way to success. One is a guy, a gangster. Lee Rock learned a lot about triad societies from him. Another is a senior cop who acts as Rock's teacher and friend. He recommends Rock to become a senior cop. In this period, Rock meets his beloved girl, Har, but is opposed by her father. Rock refuses to go along with the corrupt group in the police force makes him becoming the opponent of the majority…
More items to consider...