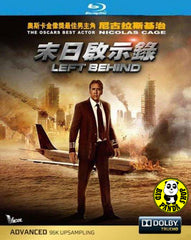 Region Coding: Region A (Locked)

Starring:
Nicolas Cage
Chad Michael Murray
Cassi Thomson
Lea Thompson
Nicky Whelan
Jordin Sparks

Director:
Vic Armstrong

Audio Tracks: 
Dolby TrueHD Advanced 96k upsampling 5.1, DTS-HD Master Audio 5.1

Languages: 
English

Subtitles:
English, Traditional Chinese, Simplified Chinese

Running Time: 
- minutes (TBA)

Distributor: 
Vicol Entertainment Ltd. (HK)

Release Date:
23 July 2015

Synopsis:
The most important event in the history of mankind is happening right now. In the blink of an eye, the biblical Rapture strikes the world. Millions of people disappear without a trace. All that remains are their clothes and belongings, and in an instant, terror and chaos spread around the world. The vanishings cause unmanned vehicles to crash and burn. Planes fall from the sky. Emergency forces everywhere are devastated. Gridlock, riots and looting overrun the cities. There is no one to help or provide answers. In a moment, the entire planet is plunged into darkness.

More items to consider...