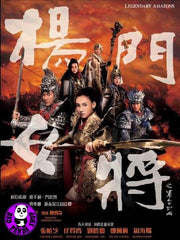 Region Coding: Region Free

Starring: 
Richie Jen
Cecilia Cheung
Cheng Pei Pei
Ge Chun Yan
Wu Ma


Kathy Chow


Liu Xiaoqing
Jin Qiao Qiao
Chen Zi Han
Xiao Ming Yu
Yang Zi Tong
Liu Dong
Yu Na
Oshima Yukari

Director: 
Frankie Chan
Jackie Chan


Audio Tracks: 
Dolby Digital 5.1, DTS Digital Surround

Languages: 
Cantonese, Mandarin

Subtitles: 
English, Traditional Chinese, Simplified Chinese


Running Time: 
108 minutes

Distributor:
Mei Ah Entertainment (HK)

Release Date:
24 Dec 2011

Synopsis:

Kwaiying was told that her husband yeung Chungbo died in the battle. Meanwhile, Emperor conveyed an edict to her son Wenguang, asking him to succeed his father and lead soldiers to fight against Western Xia Imperial allowed no disobey! All ladies of the family, including Kwaiying. Infanta Chai, and Taijun decided to join the army in a bid to protect Wenguang. After several bloody struggles, Yeung family troops suffered a heavy loss; Wenguang even lost the trace. But he accidentally found Chungbo was still alive! They were coming back to save their family after having learnt Kwaiying was severely wounded and was detained by their political opponent Wang Qiang....
More items to consider...