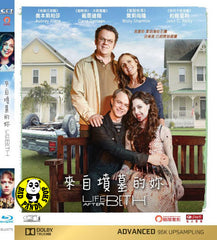 Region Coding: Region A (Locked)

Starring:
Aubrey Plaza
Dane DeHaan
John C. Reilly
Molly Shannon
Matthew Gray Gubler
Cheryl Hines

Director:
Jeff Baena

Audio Tracks: 
Dolby TrueHD 5.1, Dolby Digital 5.1

Language: 
English

Subtitles:
English, Traditional Chinese 繁體中文字幕

Running Time: 
- minutes (TBA)

Distributor: 
CN Entertainment Ltd. (HK)

Release Date:
13 July 2017

Synopsis: 
After his girlfriend unexpectedly dies, Zach is devastated. However, he gets a second chance at love after she rises from the dead.

美麗大方的貝芙(奧本莉柏莎-飾)在一次登山活動中不幸意外身亡,男友撒克(戴恩迪翰-飾)傷痛欲絕,日日到墳前憑弔。但打從貝芙下葬後其父母行跡詭異,令撒克不禁起疑,直到他終於發現真相:原來貝芙復活了!雖然此刻的貝芙嚴格來說已經成了殭屍,卻無法阻擋撒克與她再度陷入熱戀,只是隨著貝芙的肉體逐漸腐壞,她也漸漸變為一頭嗜血怪物,眼看著好不容易重來的愛面臨大危機,撒克究竟該信守承諾、伴她一生,抑或在殭屍病毒擴散前大義滅親呢?

More items to consider...