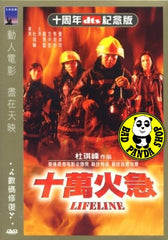 Region Coding:
Region 3 (Locked)

Starring: 
Lau Ching Wan 劉青雲
Alex Fong Chung Sun 方中信
Carman Lee 李若彤
Ruby Wong 黃卓玲
Raymond Wong 黃浩然
Huang Zhuo
Huang Yong Ming

Director:
Johnnie To 杜琪峯

Audio Tracks: 
DTS 5.1
Dolby Digital 5.1

Languages: 
Cantonese, Mandarin

Subtitles: 
English, Traditional Chinese


Running Time: 
104 minutes

Distributor:
Intercontinental Video Ltd. (IVL)

Release Date:
21 Dec 2006

Synopsis:

A heroic tale of firefighters, with a touch on the Hong Kong handover as an underlying theme, Lifeline vividly captures the ferociousness of the firestorm. It also delves into the fireman's psyche: These audacious firefighters can march into disaster and risk their lives saving others, yet would they have the equivalent courage to tackle their personal issues? The story revolves around a dutiful yet indifferent fireman (Lau Ching-wan) who strives to win back his valor and love against his strict superior (Alex Fong) and his doctor girlfriend (Carman Lee) respectively.
More items to consider...