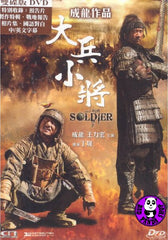 Region Coding: Region 3 (Locked)
Starring: 
Jackie Chan
Leehom Wang
Yoo Seung Jun
Jin Song
Luck 7
Yu Rong Guang
Lo Wai Kwong
Lin Peng
Du Yu Ming
Wang Bao Qiang
Ben Niu
Wu Yue

Director: 

Ding Cheng


Action Director: 
Jackie Chan
Audio Tracks: 
Dolby Digital Surround 5.1

Languages: 
Mandarin

Subtitles: 
English, Traditional Chinese

Running Time: 
96 minutes
Distributor:
CN Entertainment Ltd.

Release Date:
10 April 2010

Synopsis:
It was the darkest times in China. The battalions of warring states Liang and Wei collided in bloodbath that lasted from dawn till dusk. Only two men were left standing - a Foot Soldier from Laing and the rival General from Wei.
The Soldier captured the wounded General, hoping to use his enemy as his ticket to freedom by handing him over to the Liang warlord. Along the long and winding journey back to Liang, the two men at loggerheads meet with amazing encounters...
More items to consider...