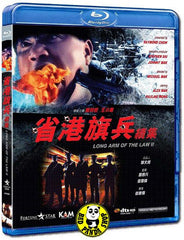 Region Coding: Region A (Locked)
Starring: 
Alex Man
Pauline Wong Siu Fung
Elvis Tsui
Ben Lam Kwok Bun
Yuen Yat Choh
Stephen Chan Tak Gwong
Kong Lung

Director & Producer: 

Mak Dong Kit
Audio Tracks: 
DTS-HD Master Audio 7.1, Dolby Digital EX 6.1

Languages: 
Cantonese, Mandarin

Subtitles: 
English, Traditional Chinese

Running Time: 
90 minutes
Distributor:
Kam & Ronson Enterprise Co., Ltd.

Release Date:
31 Dec 2012

Synopsis:
Police of Hong Kong have deviced a new day of fighting the crimes committed by the Canton authories to send three detectives into Hong Kong disguised as illegal immigrants. Their aim -- to infiltrate the biggest immigrant crime ring. The three get along better and better with police informer Da Da. They crack a few cases but their tendency to be violent makes Superintendent Cheng very uneasy. While the trio are looking for the core of the crime ring. The ring gets Da Da who is brutally murdered. One of the three is conned by a cabaret girl and he has his gory vengeance at Kai Tak airport. By accident, the ring approaches the trio to rob a bank. The police are tipped off...
More items to consider...