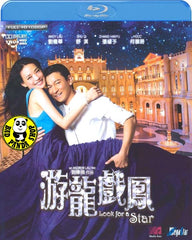 Region Coding: Region Free
Starring: 
Andy Lau
Shu Qi
Denise Ho
Zhang Han Yu
George Lam
Rebecca Pan
David Chiang
Lam Ka Wah
Maria Cordero
Ella Koon
Zhang Xin Yi

Director: 

Andrew Lau Wai Keung

Audio Tracks: 
Dolby TrueHD, DTS-HD Master Audio, Dolby Digital 5.1

Languages: 
Cantonese, Mandarin

Subtitles: 
English, Traditional Chinese, Simplified Chinese

Running Time: 
117 minutes
Distributor:
Mega Star (HK)

Release Date:
03 April 2009

Synopsis:
It's hardly a coincidence that Sam (Andy Lau) is considered the most eligible bachelor in town. Not only is he a young, smart, and insightful entrepreneur with a coveted fortune, but he also happens to be a blithe spirit with a carefree attitude to life. However, every success has its price. Sam has already divorced three times and finds himself crawling back to the game of love sooner than he has expected.
It is love at first sight when Sam chances upon a feisty, fast-talking woman with the odd name of Milan (Shu Qi) at a Macau casino. But the catch is, she is a part-time poker dealer and a full-time cabaret dancer, "careers" not exactly congruent with his station in life. Fallen in love against all odds, this mismatched couple soon makes headline in all media which turn Milan into an It girl overnight.
More items to consider...