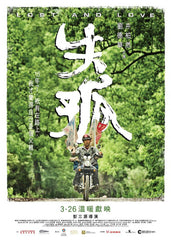 Region Coding: Region 3 (Locked)

Starring:
Andy Lau 劉德華
Boran Jing 井柏然

Director:
Peng Sanyuan 彭三源

Producer:
Wang Zhonglei 王中磊
Chan Pui Wah 陳佩華
Zhang Dajun 張大軍

Audio Tracks: 
Dolby Digital 5.1 EX Surround, DTS-ES 5.1 Surround

Languages: 
Mandarin

Subtitles:
English, Traditional Chinese

Running Time: 
- minutes (TBA)

Distributor: 
Edko Films Ltd. (HK)

Release Date:
22 July 2015

Synopsis:
After losing his two-year-old son, Lei (Andy Lau) begins a fourteen-year-long quest in search of his missing child. On the road, he makes a stop at a repair shop where he comes across a young repairman, Ceng (Jing Boran), who was also kidnapped at the age of four. Robbed of the life he was meant to live, Ceng can only vaguely remember snippets of home - a chain-link bridge, bamboo trees, and his mother's long braids. Lost And Love (Shi Gu) 失孤is an uplifting portrait of two lost souls who forge an unlikely friendship and, in the face of a hopelessness and despair, inspire courage and perseverance in one another.


movie trailer (English subtitled)
More items to consider...