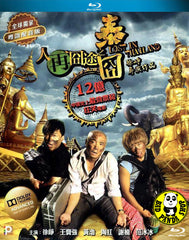 Region Coding: Region Free

Starring:
Xu Zheng 徐峥
Huang Bo 王渤
Wang Bao Qiang 王寶強
Fan Bing Bing 范冰冰
Tao Hong 陶虹

Director:
Xu Zheng 徐峥

Audio Tracks: 
Dolby Digital

Languages: 
Mandarin, Cantonese

Subtitles:
English, Traditional Chinese, Simplified Chinese

Running Time: 
105 minutes

Distributor:
Panorama (HK)

Release Date:
26 April 2013

Synopsis:
This groundbreaking Chinese road comedy tells the story of how lead Xu Lang goes to Thailand seeking "everything", and ends up finding renewal through his encounter with the kind but bumbling Wang Bao. The addition of his business rival Gao Bo to the trip prompts a series of absurd struggles that makes it hard for us to know who to cheer for. This is a ridiculous story of completely unreasonable behavior that uses Thailand's natural beauty as a stark contrast to remind us that in our usually insane, absurd lives, we have to remember to stay optimistic, because that's how we find our way back to happiness.

Box office RMB1.2 billion in China, highest grossing domestic Chinese movie.


More items to consider...