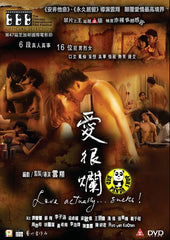 Region Coding: Region Free

Starring: 
Xu Rui Lian
Hung Chi Kit
Zhang Xin Yun
Jackie Chow

Director: 

SCUD

雲翔

Audio Tracks: 
Dolby Digital EX, THX Surround EX


Languages: 
Original Soundtrack

Subtitles:

English, Traditional Chinese, Simplified Chinese

Running Time: 

83 minutes

Distributor:

Panorama (HK)
Release Date:
20 Dec 2012
Synopsis:
Love is life, life as it is. Not every love story is a fairy tale. After a dramatic wedding feast, unusual love stories unfold towards unexpected endings:
A brother and sister in love caught by the mother; A married painter falls for his young life drawing model of the same sex; an intimacy between a dance school teacher and his wealthy but senior student; a lesbian couple in hich one has role-play paranoia; a dreadful love triangle ending with the girl being beheaded…
"Love Actually…Sucks!" celebrates love that no one cares for, but for life is love, love as it is...
More items to consider...