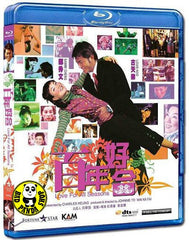 Region Coding: Region A (Locked)
Starring: 
Sammi Cheng
Louis Koo
Li Bing Bing
Cheung Kam Ching
Belinda Hamnett
Lam Suet
Johnnie To
Wai Ka Fai

Directors: 

Johnnie To
Wai Ka Fai

Audio Tracks: 
Dolby TrueHD 7.1, Dolby Digital EX 6.1, THX Surround EX

Languages: 
Cantonese, Mandarin

Subtitles: 
English, Traditional Chinese

Running Time: 
93 minutes
Distributor:
Kam & Ronson Enterprises Co., Ltd.

Release Date:
26 June 2012

Synopsis:
Millionaire Tiger Hung (Louis Koo) is told to find cure at the mysterious all-women martial arts sect Omei, and there he meets Omei's young master May (Sammi Cheng). The healing process moves smoothly until May's big sister Misery (Li Bing-Bing) shows up and challenges May into a duel. Misery has lost her mind and she threatens to destroy Omei unless May beats her with the sect's long-lost"Heartbreak Sword Technique"...
More items to consider...