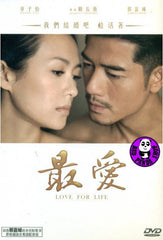 Region Coding: Region 3 (Locked)

Starring: 
Zhang Ziyi
Aaron Kwok
Pu Cun Xin
Jiang Wen Li
Li Dan Yang
Tao Ze Ru
Sun Hai Ying

Director: 
Gu Chang Wei


Audio Tracks: 
Dolby Digital Surround 5.1

Languages: 
Cantonese, Mandarin

Subtitles: 
English, Traditional Chinese

Running Time: 
101 minutes

Distributor:
Edko Video

Release Date:
16 Nov 2011

Synopsis:

When QI plays first magic trick ¡V earning much money by being a blood broker in the surrouding villages, he brings a disaster to his village and his family.
His son dies in an accident, his brother gets infected with AIDS. His father tries to atone for his son, but QI does not listen. The disease has changed the whole villages.Love ones depart, but at the same time causing a sorrow love story between his brother and his sister-in-law...
More items to consider...