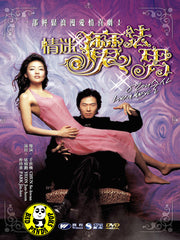 Region Coding:
Region Free

Starring: 
Park Jin Hee
Yeon Jeong Hoon
Jo Mi Ryeong
Ha Dong Hoon
Oh Yoon Ah

Director: 
Cheon Se Hwan


Audio Tracks: 
Dolby Digital EX, THX Surround EX, DTS Extended Surround, DTS-ES

Languages: 
Korean
Subtitles: 
English, Traditional Chinese, Simplified Chinese

Running Time: 
109 minutes

Distributor:
Winson Entertainment Distribution Ltd. (HK)

Release Date:
29 Jan 2008

Synopsis:
A young, good-looking and promising magician, Woo Ji-hoon, is wooed by many gals. As well, Koo Hee-won is a high school teacher. At night,she turns into a party animal taking part in all sorts of parties. Ji-hoon and Hee-won meet in a party and have a one night stand at a motel. Unfortunately, they have been filmed by a candid camera and uploaded on the internet. They feel very uneasy about it and decide to look into the incident finding out the truth and the mastermind.Because of this, they spend a lot of time being together and start to have a crush on each other. Gradually, Ji-hoon realizes the one he loves the most is...
More items to consider...