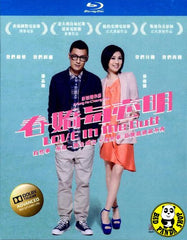 Region Coding: Region A (Locked)
Starring: 
Miriam Yeung
Shawn Yue
Xu Zheng
Mini Yang
Vincent Kok
Jo Koo
Charmaine Fong
Chan Yat Ling
Jim Chim

Director: 

Pang Ho Cheung
Audio Tracks: 
Dolby TrueHD 7.1, DTS-HD Master Audio, Dolby Digital 5.1

Languages: 
Cantonese, Mandarin

Subtitles: 
English, Traditional Chinese, Simplified Chinese

Running Time: 
111 minutes
Distributor:
Mega Star (HK) / Intercontinental Video Limited (IVL)

Release Date:
18 July 2012

Synopsis:
In this sequel to the hit movie (Love in a Puff), Jimmy and Cherie start a new life in Beijing after they ended their relationship, Despite meeting someone else, they can't seem to forget each other and are torn between fidelity to wards their new partners and following their hearts. Find out what happens to Jimmy and Cherie 9 months after where we left them in (Love in a Puff).
More items to consider...