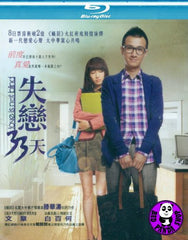 Region Coding: Region A (Locked)

Starring:
Wen Zhang
Bai Bai He
Zhang Mo
Wang Yao Qing
Liao Fan
Chen Yu Fan
Jiao Jun Yan
Zhang Jia Yi
Hai Qing
Li Chen
Yao Di
Ma Yi Li
Zhang Xin Yi
Guo Jing Fei

Director:
Teng Hua Tao

Audio Tracks: 
Dolby TrueHD, DTS-HD Master Audio, Dolby Digital 5.1

Languages: 
Mandarin

Subtitles: 
English, Traditional Chinese

Running Time: 
103 minutes

Distributor:
Edko Films Ltd. (HK)

Release Date:
11 May 2012

Synopsis:

Xiaoxian¡¦s life is right on track. She has a steady job at an upscale wedding planning company, a cute apartment, and most importantly, a loving boyfriend of 7 years. Any day now, Xiaoxian is sure that he¡¦ll pop the question. But everything comes crashing down when she discovers that he¡¦s actually cheating on her¡X with her best friend. How could things go so wrong?
Dumped and heartbroken, Xiaoxian is a total mess. It doesn¡¦t help that she has to face perky brides every day. Things go from bad to worse until her sassy, but jaded, co-worker Jian intervenes. It¡¦s not that Jian really cares. It¡¦s more that he¡¦s sick of witnessing her pathetic decline. Xiaoxian seriously needs to get a grip.
33 days into her breakup, Jian¡¦s brand of tough love is working, but Xiaoxian still can¡¦t help wondering: will she ever get a chance at love again?
More items to consider...