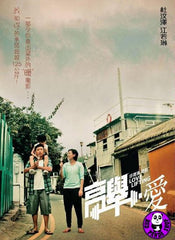 Region Coding: Region 3 (Locked)

Starring: 
Chapman To
Elanne Kwong
Tanny Tien
Jun Kung
Cheung Tong Cho
Lee Fung
Huang Jian Xin
Terence Siufay
Lin Sheng Bin
Zhang Song Wen
Xu Zheng Xi

Director: 
Herman Yau


Audio Tracks: 
Dolby Digital 2.0, Dolby Digital 5.1

Languages: 
Cantonese, Mandarin

Subtitles: 
English, Traditional Chines, Simplified Chinese

Running Time: 
92 minutes

Distributor:
Universe Laser (HK)

Release Date:
17 May 2012

Synopsis:

Li is a weightlifter in Mainland China who quits the field due to diabetes. It's tough for Li as she lacks professional skills while with a heavy burden of medical expenses, she has to work as a laborer to earn a living. Yun failed in both business and marriage, he meets Li at the time he loses his direction in life. Yun falls into Li little by little, he determines to support Li to strive for her dream, and he later gets Li a job as a fitness trainer.

Yun realizes his wife still desires for national weightlifting champion. Yun pays a lot of of effort to convince Chen, the former national champion, to be the coach of Li. Li is moved by Yun and agrees to take up the challenge again, she start s intensive training in Guangzhou and tries to get back on track….
More items to consider...