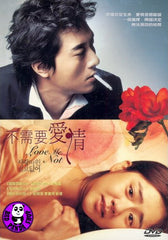 Region Coding:
Region 3 (Locked)

Starring: 
Moon Geun Yeong
Kim Joo Hyeok
Do Ji Won
Jin Goo
Lee Ki Young

Director: 
Lee Cheol Ha


Audio Tracks: 
Dolby Digital

Languages: 
Korean
Subtitles: 
English, Traditional Chinese

Running Time: 
120 minutes

Distributor:
Edko Films Ltd. (HK)

Release Date:
16 Oct 2007

Synopsis:
Julian was a gigolo and lived on his rich female customers. However, he is over his head in debt from trying to set up his own business. He will be killed unless he clears the debt within a moonth. The only way to save himself is to pretend to be the long-lost brother of an heriess and snatch her fortune. Min, the blind heriess, is cold-hearted and cynical like Julian. She slowly opens upo to Julian, and he eventually fails for her too. Julian is caught between his financial dilemma and his unecpected feelings for Min. But he still has his debt to pay and to make maters worse, Min's life is threatened. How does Julian handle this chaotic situation eventually?
More items to consider...