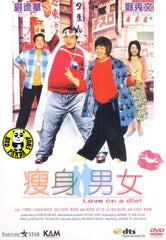 Region Coding: Region 3 (Locked)
Starring: 
Andy Lau 劉德華
Sammi Cheng 鄭秀文
Wong Tin Lam 王天林
Higuchi Asuka
Rikiya Kurokawa
Lam Suet
Sato Keiji
Higuchi Asuka
Wong Mei Fan
Po Ming Nam
Hung Wai Leung
Cheung Chi Ping

Director:  
Wai Ka Fai 韋家輝


Producer:  
Johnnie To 杜琪峯

Audio Tracks: 
DTS Digital Surround 6.1, Dolby Digital EX, THX Surround EX

Languages: 
Cantonese, Mandarin

Subtitles: 
English, Traditional Chinese, Simplified Chinese

Running Time: 
95 minutes
Distributor:
Kam & Ronson Enterprises Co., Ltd.

Release Date:
14 Sept 2010

Synopsis:
Mini Mo, a Chinese ex-pat residing in Japan, becomes an over weight fatty when her boyfriend Kurokawa went abroad ten years ago. She meets a kitchen utensil salesman Fatso in the time of adversity. When Fatso learns the true story behind Mini's depression, he puts Mini on a grueling diet program and gives her encouragement every step of the way. Mini miraculously loses weight and reunites with Kurokawa. When she is in dilemma to choose between two guys, Fatso disappears suddenly...
More items to consider...