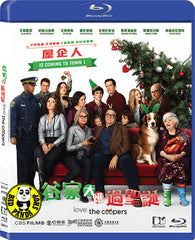 Region Coding: Region A (Locked)

Starring:
Alan Arkin
John Goodman
Ed Helms
Diane Keaton
Jake Lacy
Anthony Mackie

Director:
Jessie Nelson

Audio Tracks: 
Dolby TrueHD 5.1

Language: 
English

Subtitles:
English, Traditional Chinese

Running Time: 
- minutes (TBA)

Distributor: 
Bravos

Release Date:
31 March 2016

Synopsis:
LOVE THE COOPERS follows the Cooper clan as four generations of extended family come together for their annual Christmas Eve celebration. As the evening unfolds, a series of unexpected visitors and unlikely events turn the night upside down, leading them all toward a surprising rediscovery of family bonds and the spirit of the holiday.


movie trailer (Chinese subtitle)

More items to consider...