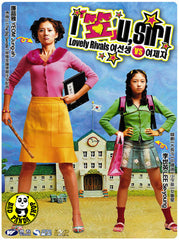 Region Coding:
Region Free

Starring: 
Lee Ji Hoon
Yeom Jung Ah
Lee Se Young

Director: 
Jang Kyu Sung


Audio Tracks: 
Dolby Digital 5.1

Languages: 
Korean
Subtitles: 
English, Traditional Chinese, Simplified Chinese

Running Time: 
1124 minutes

Distributor:
Winson Entertainment Distribution Ltd. (HK)

Release Date:
19 Feb 2008

Synopsis:
Since a young and gorgeous primary school teacher, Mi-ok's work ethic is so lousy,and her attitude towards managing her school matters is draconian, her colleagues and students do not get along with her well at all. A new semester is coming up soon,and a student,Mi-nam, just gets transferred to Mi-ok's primary school. Being a new student at the school, Mi- nam is isolated by her classmates. She thinks that she can turn to Mi-ok whenever she needs to share with someone, but Mi-ok gives her the cold shoulder andignores her. On the contrary, Mi-ok treats the new arts teacher, Sang-min differently and cares about him a lot. Therefore, Mi-nam and Mi-ok become hostile and rude to each other. What's more, Mi-nam plans to unmask Mi-ok's bad behaviour and characters in front of Sang-min...
More items to consider...