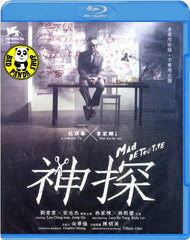 Region Coding:
Region Free

Starring: 
Lau Ching Wan 劉青雲
Kelly Lin 林熙蕾
Gordon Lam 林家棟
Andy On 安志杰
Lee Kwok Lun 李國麟
Eddie Cheung 張兆輝
Lam Suet 林雪

Director: 

Johnnie To 杜琪峯
Wai Ka Fai 韋家輝


Audio Tracks: 
DTS Digital Surround, Dolby Digital EX, THX Surround EX

Languages: 
Cantonese, Mandarin

Subtitles: 
English, Traditional Chinese, Simplified Chinese

Running Time: 
91 minutes
Distributor:
Mei Ah

Release Date:
24 July 2008

Synopsis:
A missing police pistol is connected to a series of recent heists and murders. Its owner WONG died earlier while pursuing suspects in the mountains. All doubts point to his partner KO (Lam Ka Tung), who miraculously returned unharmed.
Hotshot CIB inspector KA-ON (Andy On) is in charge of the serial murder investigation. He knows the only chance he has in cracking the case is to ask his mentor/former boss BING (Lau Ching Wan) to come out from retirement.
Bing is recognized as a gifted criminal profiler until he went mad several years ago. At his superior's farewell party, Bing sliced off his right ear with a meal knife and offered it as a present. Bing lives in seclusion with his beloved wife MAY (Kelly Lin) ever since.
More items to consider...