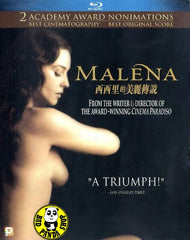 Region Coding: Region A (Locked)


Starring: 
Monica Bellucci
Guiseppe Sulfaro
Luciano Federico

Director:
Guiseppe Tornatore

Audio Tracks: 
Dolby DTS-HD Master Audio 5.1
PCM 2.0

Languages: 
Italian



Subtitles:


English, Traditional Chinese

Running Time: 
92 minutes

Distributor:


Panorama HK Distributions



Release Date:
5 Jul 2012

Synopsis:

In Sicily during World War II, 13-year-old Renato and his pals become infatuated with Malena, a beautiful young war widow who is the obsession of every man and the envy of every woman. However, when news of the death of Malena's husband arrives, Malena's beauty turns into a curse. No longer protected from male advances by her marital status, she becomes fair game. As various men pursue her, their jealous wives begin spreading the word that Malena is a floozy, a rumor that the men are only too eager to believe. After a local lawyer helps her clear her name from a jealous wife's lawsuit, he demands payment in ways that Malena is not prepared to provide...
More items to consider...