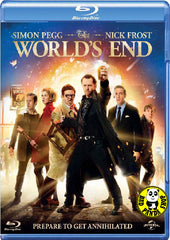 Region Coding: Region A (Locked)

Starring:
Simon Pegg
Nick Frost
Martin Freeman
Paddy Considine
Eddie Marsan
Rosamund Pike

Director:
Edgar Wright

Audio Tracks: 
DTS-HD Master Audio 5.1, DTS Surround 5.1

Languages: 
English, Spanish, Thai, Portuguese

Subtitles:
English, Traditional Chinese, Simplified Chinese, Korean, Thai

Running Time: 
- minutes (TBA)

Distributor:
Universal / Intercontinental Video Ltd. (IVL) HK

Release Date:
7 Jan 2014

Synopsis:
Simon Pegg and Nick Frost reteam with director Edgar Wright (Shaun of the Dead, Hot Fuzz) in this wildly entertaining thrill ride that critics call "funny as hell" (Richard Roeper, WLS-AM Chicago) and "sheer comic perfection" (Peter Travers, Rolling Stone). Twenty years after their first epic pub crawl attempt, the "five musketeers" reunite in their home town to complete the ultimate challenge - one night, five friends, twelve bars - a boozy quest on which only the strongest will survive. But after a bizarre series of encounters with the out-of-this-world locals, they soon realize that reaching their final pub, The World's End, may be the least of their troubles. They're having the time of their lives, ready to take on the world...but tonight they may have to save it.
More items to consider...