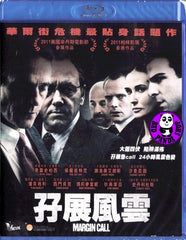 Region Coding: Region A (Locked)

Starring: 
Jeremy Irons
Kevin spacey
Zachary Quinto
Demi Moore
Simon Baker
Stanley Tucci

Director:
J. C. Chandor

Audio Tracks:
Dolby DTS-HD Master Audio 7.1
Dolby TrueHD 7.1

Languages: 
English

Subtitles:


English, Traditional Chinese, Simplified Chinese

Running Time:
107 minutes

Distributor:
Vicol Entertainment

Release Date:
19 Jan 2012

Synopsis:
Peter Sullivan (Zachery Quinto) is a young investment banking whiz-kid from M.I.T. who uncovers a major flaw in his firm's books. Their leverage heavy polices will lead to billion dollar losses. After Peter's boss (Stanley Tucci) is fired, he digs deep into his computer and uncovers the scam, and then alerts the upper management who apparently don't have a clue what is going on - or do they ? Sam Rodgers (Kevin Spacey) and Will Emerson (Paul Bettany) are the first in the hierarchy to be informed of the malfeasance. Their denial and then acceptance lead to a chain reaction where risk management (Demi Moore) and head of securities (Simon Baker) are enlightened about the dumbfounding state of affairs. CEO John Tuld (Jeremy Irons) is then brought in by helicopter and is informed of the gloomy situation in order to complete the circle of gnorance...
More items to consider...